Christy Griner Hulsey Honored To Be Featured in Bulldawg Illustrated's Georgia Girls
I'm honored to be featured as one of the Georgia Girls in the Bulldawg Illustrated with a fun photo along with answers to questions my mama doesn't even know! 
The Bulldawg Illustrated is known as the best way for Georgia Fans to keep up with the best of the red and black... between and beyond the hedges. And, it's a real thing that if you love Georgia you'll love the Bulldog Illustrated. I do! 
I'll share an excerpt with pictures and words below but look at Bulldawg Illustrated for the full article (and more, they have great Georgia Bulldawg stuff!). 
Go Dawgs...
CGH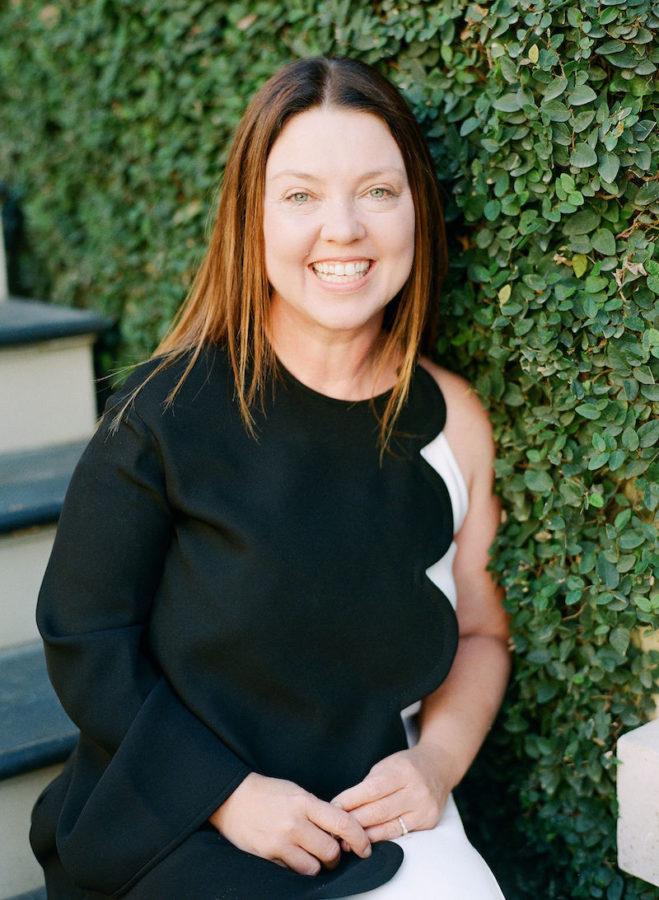 Name: Christy Griner Hulsey
Family: Brian, Beatrice (12), Whitaker (10) + two Siamese cats, Stella and Louis
Hometown: Statesboro, Georgia
Current Town: Atlanta | Roswell, Georgia
Since 1968, our flower shop, has been in Statesboro, Georgia. I have never told anyone public about this, so right now I feel like Stephen Spielberg when he revealed his own dyslexia, it's "the last puzzle piece to a great mystery that I've kept to myself." Jennifer Anniston said that the discovery of hers changed "her perception of her life forever." Learning that I am dyslexic, you guys, makes my flower story and life make sense.

My biggest weakness… is my biggest strength.

With the help of many people and having molded Colonial House of Flowers with the sound principles learned through The Southern Coterie, a few weeks ago I relocated to take advantage of an unexpected opportunity to be immersed in the resources for dyslexic learning in Atlanta.

Outside of metro-Atlanta, the resources to identify and celebrate dyslexia are limited in Georgia. Malcom Mitchell is another south Georgia dawg who went unidentified until he was an adult.

I am so lucky! When I saw the dawgs— Hairy Dog, Malcom Mitchell, Vince Dooley and Brian Kemp— at the capitol for Literacy Day, I knew a year in the city might work out for me, and Colonial House of Flowers. The business and I are growing in ways I never imagined.
What Years at UGA: 1994 – 1998
School/Degree: ABJ, Grady School of Journalism | Advertising
Profession: I use plants, flowers and a story as my medium to create intimate, high-end, bespoke, artistic partnerships, weddings, and event florals. I'd say my style is old-world, painterly, elegant yet rebellious and totally individualistic in a way that is always the same, yet always different. I'm thankful for childhood days being sent to my grandmother's south Georgia garden; because it's helped me develop a language that is honest, authentic, graceful and effortlessly translate into the magical world of flowers that spans the globe. I hope every floral connection we make drips with soulful details and loose, wild, texture-full abandon— and shares inspiration. Since 1968, our shop has believed that good fun, strong women, genuine kindness, tight friendships and tough families are what make the world go around. And, that's what I do— create things, share things and ship things that say just that.
Accolades: 2017 Mayesh Design Star, UGA 40 Under 40 Honoree, UGA Bulldog 100 Fastest Growing Businesses, three years representing the USDA on 2018 trade mission to China to support American Grown Flowers, July 4 White House floral team, First Ladies Luncheon White House floral team (with my grandmother), featured in Martha Stewart Weddings and Coastal Living magazine, worked on Rose Bowl float flowers the same year the dawgs were in Pasadena!
INSPO:
Book:
David and Goliath: Underdogs, Misfits, and the Art of Battling Giants
by Malcolm Gladwell

The Gift of Dyslexia: Why Some of the Smartest People Can't Read by Eldon Braun and Ronald Davis

Pursuit of Paradis Memoir of a Bahamas Mama by Georggene Dreishpoon. *Note: I was reading this historical, non-fiction book while I at Green Turtle Cay in the Abacos, Bahamas and, low in behold, I recognized the characters called Mr. & Mrs. Georgia – they are my grandparents, Jim and Margie Tygart from Nashville, Georgia.

The Tea Girl of Hummingbird Lane by Lisa See

The most beautiful thing I have ever read? Tell Me More: Stories About the 12 Hardest Things I'm Learning to Say by  Kelly Corrigan

Born to Run by Christopher McDougall

Celebrate Everything by Darcy Miller

The Science of Selling by David Hoffeld
Magazine: Garden & Gun, Southern Living, Atlanta Magazine
Podcast: Up and Vanished, How I Built This with Guy Raz, The Flower Podcast with Scott Shepard, Bitter Southerner, Closer Look with Rose Scott, All Things Considered
Blog: Saipua Journal, The Southern C
Instagram: PHAEDRA @phaedraparks | This is funny. Literally bumped into Phaedra and met she and her mom in a parking lot. She and her mom are the first people I met when I came to Atlanta. We connected, exchanged numbers. I just l loved her in a real way! I thought, this girl thinks she is an Atlanta Housewife. When I got home, I looked her up, after I'd been texting her nonsense. I'm so embarrassed to see she has 2.5M followers and is an Atlanta Housewife?! So, then. I was super blushing! She grew up in Athens, went to UGA and loves the Dawgs … just a good all around girl. I am sorta loving following her on Instagram.
Brand: j.crew
Fashion designer: Valentino
Interior designer: Katherine Lott Design, Mary Hawthorne Interiors
Quote:  "Appreciation is the purest, strongest form of love. It is the outward-bound kind of love that asks for nothing and gives everything." -Kelly Corrigan, The Middle Place

"It doesn't have to be perfect to be beautiful." -Myquillyn Smith|It is my saving grace. When I travel to different countries I have a someone write it on a piece of paper in their language. I keep those pieces of paper. 
"There was a father with two sons.  One son is always positive and the other one is always complaining.  He can never satisfy the one who is negative. So one day he decided to do an experiment.  While the boys were gone, he put lots of new toys in the negative son's room and he put a huge pile of horse manure in the positive son's room.  When the boys came home, they went to their room. The negative son saw the toys on his bed and said that the toys were dumb and he didn't get what he wanted.  The positive son went to his room, saw the pile of manure, and started shoveling through it with excitement. The father asked him why he was so happy. He replied, 'Under all this crap there has to be a pony!'"

Herschel Walker
"I love you.
The first time the words pass between two people: electrifying.
Ten thousand times later: cause for marvel.
The last time: the dream you revisit over and over and over again." -Kelly Corrigan, Tell Me More: Stories about the 12 Hardest Things I'm Learning to Say

"'Things happen when you leave the house.' I think I like the sense of there's something out there that you can tap into. You don't have to bring it all. There's a whole world out there happening, and you can step into all kinds of things, and you don't need to know why you're leaving the house." -Kelly Corrigan | I feel like I am "leaving the house" as I move from my  hometown friends, family, schools and life that I cherish down in the Coastal and Southern part of Georgia to be in Atlanta this year.  

"Just do your best. It's the only way to keep the last bit of sanity. Maybe I don't have to be good, but I can try to be least a little better than I've been so far." -The Avett Brothers
ATHENS + UGA:
Describe Athens in five words or less: Modern, elegant, rebellious, loved, ready-to-have-a-good-time
Restaurants and bars: Five & Ten, Trappeze
Shops: Heery's
Athens/campus landmark: 255 Milledge Hardman-Sams House, 397 Milledge (Gamma Phi Beta House), Taylor Grady House
Gameday RULES: #NeverBarkAlone and always bring the dip! Despite attempts to appeal to a more sophisticated palate don't mind the lack of savoir faire this is the recipe that's the winner and is always devoured.
8oz Velveeta Mexican Cheese
8oz Cream Cheese
1 package Jimmy Dean Hot Sausage
1 can hot Rotel
It has to be made just like this. This is the only way. Brown Sausage. Drain. Sit aside. Pour Rotel in a pan so the tomatoes can get warm. Add Velveeta and Cream Cheese over low heat so it can melt. Then add sausage.