Intimate Garden Funeral Flowers Complete With Beautiful Sympathy Spray Tips + Inspiration!
Luckily, I can quickly round up stunning styles that you are sure to love to inspire your Sympathy floral design and decor because this is an area of floristry that I love! So, once you've decided to say yes to decorating with flowers and plants maybe it's in your home, in your gift giving or your new profession, it's time to say yes to celebration of life floral work. It's important and beautiful. In fact, you might even design you to embrace a new area of design as much as I do. Read the tips and look at the real-life inspiration- more than just one- to elevate your sympathy design below!
It's true that sympathy floral design is an area of floristry that has to evolve with changing times in ways that modernize and personalize tributes. Adding a modern elevation is crucial to growing flower shop sales in memorial and funeral services. I have always said that I want my obituary to read: In Leau of Donations Please Send Flowers. Old school sympathy arrangement styles have pretty much stayed the same for generations, you can change that with a few artistic touches and updates to the composition. You will want to create more of it and your clients will want to send more of it. It is very important for there to be flowers and plants at funeral services. To me, there is nothing gloomy-er than a funeral service without flowers. Have you seen one? It's very sad. 
Flirty Fluers offers a nice collection of sympathy floral inspiration she found around the web. You can see what she found, here. 
I have always said that I want my obituary to read: In Leau of Donations Please Send Flowers.
One way that you can move to more festive work is by imploring a more vibrant color palette than the somber tones of years past. The colors of yesteryear were more mournful. The funeral industry and our culture has moved toward more of a celebration of life approach so let the hues go there. Think, bright whites, purples, hot pinks and greens.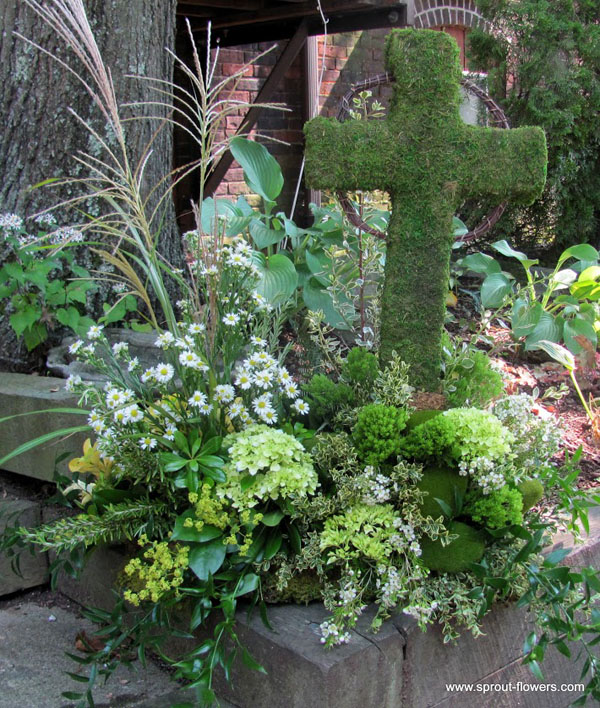 CREDIT: SPROUT FLOWERS, FLIRTY FLUERS 
 CREDIT: MELANIE FLANDERS FOR COLONIAL HOUSE OF FLOWERS
Another way to update designs is with the shape. Traditional shapes like crosses, hearts and wreaths are always nice but you can elevate them with ribbon or unexpected flower choices in ways that make memorable displays. Big bows are traditional while a touch of whimsy can be added with elegant hand spun or double sided satins and grosgrain ribbons that people are surprised to see. 
CREDIT: CHRISTY GRINER HULSEY FOR COLONIAL HOUSE OF FLOWERS 
Personalizing sympathy arrangements is a great way to update designs. You can ask families if they have personal items that can be incorporated to make the final piece more personal. For example, we have used fishing poles, instruments, pet bowls and leashes, gardening gloves, kitchen utensils and cups and hats. 
In The Art of Today's Sympathy Designs in Florists' Review, Hitomi Gilliam, AIFD, CFD, shares her take on sympathy floristry. "Updating to suit current lifestyles and the general vibe of what consumers sees as beautiful is very important for this segment of floristry," 
"My sense is to revamp sympathy work from the stiff, archaic traditional badges of honor to more creative, individual expressions reflecting the personality of a person's life well lived. Thinking differently about sympathy work and designing pieces for a life event— sympathy design work is event work. Designs can be assembled to last for the amount of time that they need to look good, minimizing the use of some of the polluting elements in supplies and making disposing of the flowers much more organic and decomposable."
CREDIT: CAROLYN PHILLIPS FOR COLONIAL HOUSE OF FLOWERS 
CREDIT: CAROLYN PHILLIPS FOR COLONIAL HOUSE OF FLOWERS