The Prettiest Flower Fields to Visit in Georgia
Though, technically speaking the summer ends in September, it's fair to say that summer is in full effect. There's only a few weeks left before it's over and school goes back. Whether this summer was filled with exotic trips and neighborhood parties, or not. It's okay. There is still tons to be grateful for and that's reason enough for celebration this season. 
Whether you are looking for blooms u-pick or u-pick-up for a party, a picture perfect backdrop or just something fun to look-at, there's more than a few beautiful places to go here in the Peach State. From beach side to mountainside — Enigma to Roswell and all of the places in between—here's where to go to find some of the prettiest flower fields in Georgia this year (to me). 
Yours Truly, 
CGH
P.S. I've decided to make this a living list because I love to visit flower farms. Tell me more and I'll add it. Let's GROW!
Posie Fields
From April to September you can see zinnia, bells of Ireland, sunflowers, anemones, astilbe, doc, honeysuckle, cockscomb and dozens of other organically grown varieties in Ball Ground at The Greystone Estate. Owner Erin Champion and her husband, Jason along with her crew harvest and cut flowers into gorgeous bouquets. According Debra Prinzing's distinguished Slow Flowers Listings, they "are at the Alpharetta Farmers Market every Saturday morning and the Avalon every Sunday afternoon with our adorable Posie Flower Cart." You can also find them through subscriptions, workshops, and DIY buckets. The flowers are available to the public and florist wholesale.
Lucky to have lived down the road from this delightful farmer when she started down in Roswell and even luckier Erin allowed me to help during the harvest season, I can't tell you how much joy the cultivated beauty of Posie Fields brings to so many.  Catch the full article in VoyageATL for a closer look into this farm's story. And, Blog the Burbs has more on this special seed to market florist in their post, too. 
An easy way to catch a glimpse of the farm's bounty and a good photo opportunity is at the Alpharetta Farmer's Market each week during the season where Posie Fields parks this cart in front of The Red Hound Gift Store in downtown Alpharetta. 
Next, 
This 500-acre family-owned and operated farm, was originally established in 1912 as 'Echols Orchards. Jim Echols and family rebranded as 'Jaemor Farms' in 1981 when their roadside market opened along I-985/Hwy.365. They offer U Pick flower fields. While you are there visiting the flower farm check out the pie kitchen for fried pies, homemade cakes and ice cream, raw peanuts, green peanuts, roasted peanuts, fried peanuts and the best boiled peanuts you've ever had! Check out the furniture and arts and crafts. 
Jaemor hosts two festivals a year - Strawberry Festival in May and a Peach u-pick event In August. On weekends in September and October, visit the six-acre corn maze with farm slide, apple sling shot, hand-pump duck races and hayrides.
Next,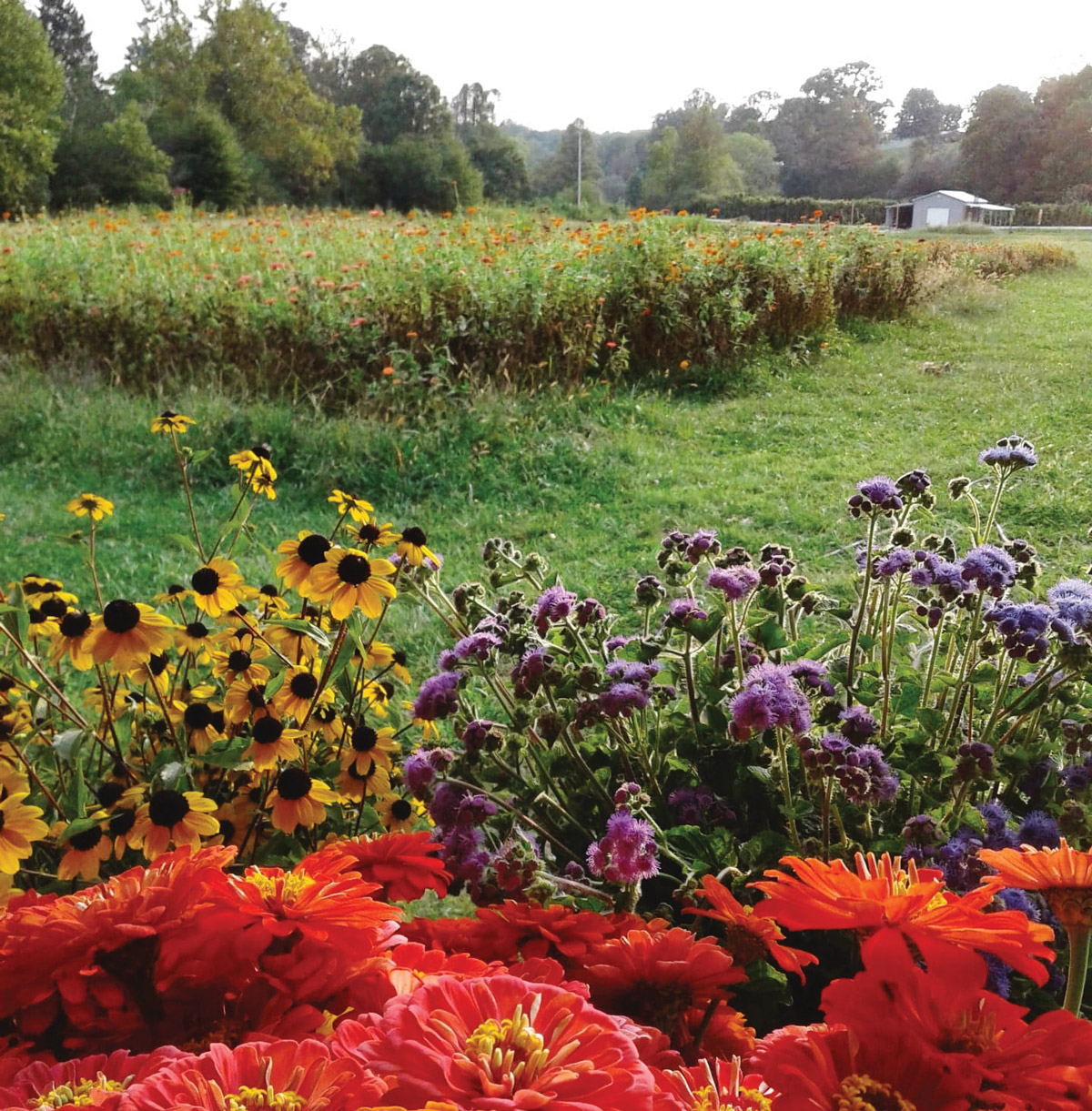 Whimsy Flower Farm
This 
family-run farm in the mountains of north Georgia offers fresh cut bouquets and florist wholesale. Owner Jennifer Flowers, yes her name is so fitting (I love it!), invites you to visit the store and farm just south of Blairsville. You can enjoy a dreamy day wandering a field of bright blooms like ranunculus and dahlia in up to 50 colors, the views are truly breathtaking. You can also call, email or visit the Union County Farmers Market to pick up a bouquet. 
WilMor Farms | Southern Soil Magazine